Home
›
BlackShot Global
›
Event
[BS-GLB EVENT] RECRUIT A FRIEND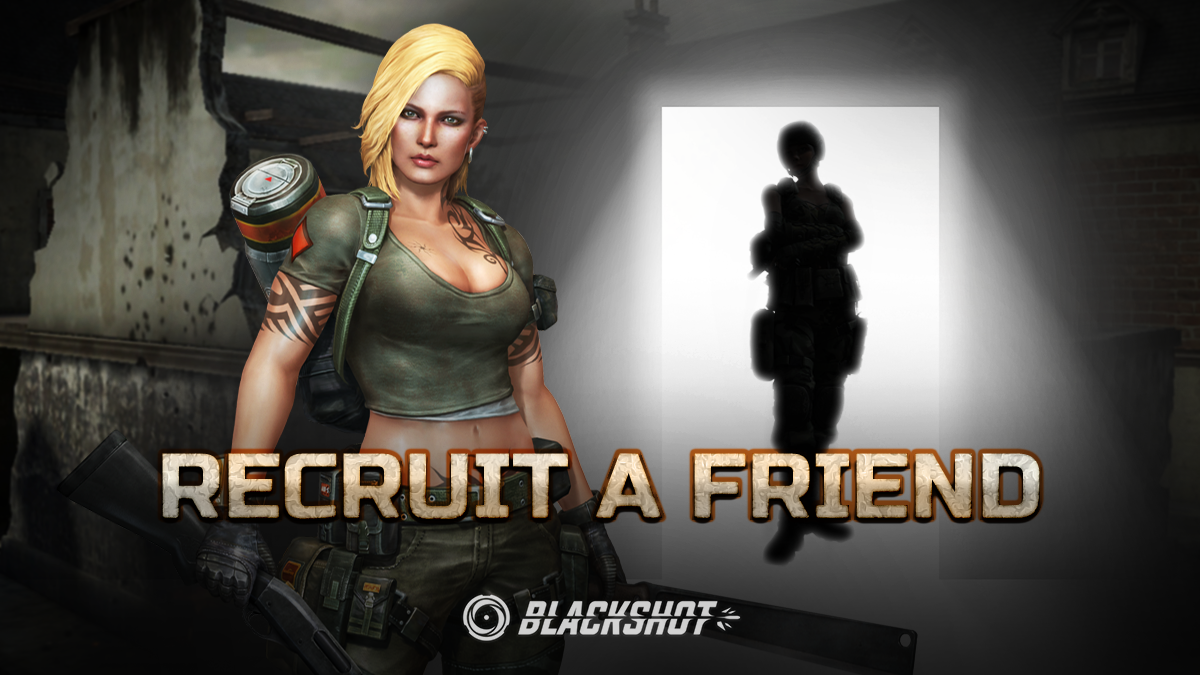 Hello BlackShot Global soldiers,
BlackShot is recruiting and we need YOU to assist us in this recruiting drive! Invite your friends to join you in glorious battle and both you and your friends will be rewarded should you succeed!

✪
Duration:

-
26 Sep - 11 Nov



✪
How to participate:
-
Fill out this form
with your details and your invited friend's details.
-

You can invite up to 10 friends, so be sure to fill out the form for each friend you invite.
-

Each invited friend MUST create a new Papayaplay account and subsequently a BlackShot account.
-

You and your invited friends must then play for at least 90 hours total within the event period.
-

Should you succeed, you and your friends will receive the rewards below, based on the number of invited friends who fulfilled the 90--hour requirement alongside you.



✪

Rewards:





-

1 Friend: M4A1 Gold+ 3d, Medkit+ 3d




-

2 Friends: M4A1 Lunarblaze+ 3d, Medkit+ 3d




-

3 Friends: M4A1 Omega+ 3d, Medkit+ 3d, 20,000 Gold




-

4 Friends: AK SRM Omega+ 7d, NZ1 Knife+ 7d




-

5 Friends: MSR Omega+ 7d, Medkit+ 7d, Speed Kit+ 7d




-

6 Friends: MSR Phoenix+ 7d, Desert Eagle Legion+ 7d, Magazine Extension+ 7d




-

7 Friends: MSR Cryophoenix+ 15d, NX1 Swiftblade 15d, Speedkit+ 15d




-

8 Friends: AK47 Blazing Glory+ 15d, Desert Eagle Goldsand 15d, Demolition Man+ 15d




-

9 Friends: NX1 Blazing Glory Sniper+ 15d, Blazing Glory NX1 Melee+ 15d, Plasma Grenade+ 15d




-

10+ Friends: AWP VTG Blaze+ 15d, HK416 VTG Specter+ 15d, Kriss Vector Azure+ 15d, 50,000 Gold


*NOTE: Rewards and Terms of Event are subject to change


Team BlackShot
This discussion has been closed.